At Land Rover Westside, our priority is to provide drivers near Cleveland, OH, with all the information you need to keep your vehicle healthy. That's why our team of professionals is here, to help you learn more about why oil changes are so important with the insightful details on this page.
Thanks to our oil change services near Cleveland, OH, your automobile will be kept in top-notch shape so that you can continue to explore the sights and sounds of this city. So, if you've been looking for a way to bolster the smooth performance of your automobile, check out the oil change resources on this page. Before making your next service appointment, find our service specials here!
How Long Does an Oil Change Take?
Our Service Center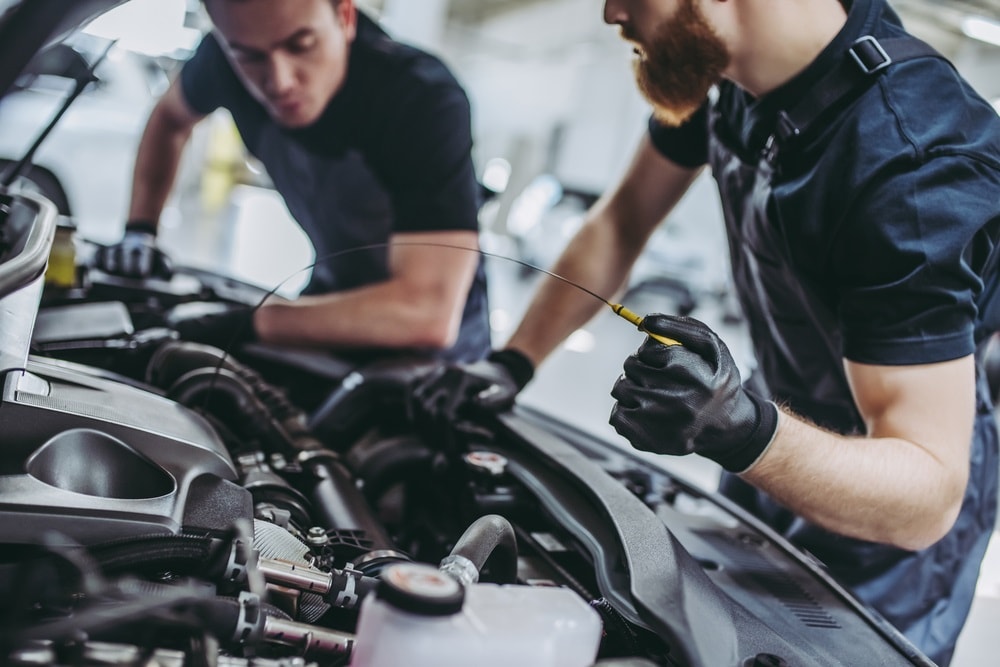 When it comes to automotive care, it's essential to visit a dealership that's supplied with mechanics who have years of experience. Fortunately, that's precisely what you'll find at our Land Rover dealership near Cleveland, OH. Here, our technicians at our service center go above and beyond to keep your vehicle in top-notch condition by servicing your car with advanced tools and quality parts during your oil change appointment.
On top of that, our friendly mechanics are always ready to equip your car with a routine oil change every 5,000 to 7,000 miles, or sooner, if you feel like your vehicle needs some extra care. That way, you'll confront every new adventure behind the wheel of a vehicle that's ready to manage any type of road or weather condition.
Looking for a few tips on how to keep your engine oil clean and healthy for as long as possible? Well, our certified automotive specialists are happy to provide you with information on how to do exactly that. With the assistance of our mechanics, you'll be riding inside a car that performs at its best for the long haul.
When Should I Schedule My Oil Change near Me?
Luckily, identifying when it's time for your automobile to receive an oil change near Cleveland, OH, is as simple as paying attention to a few warning signs. Let's take a look at some of the most important signals that indicate that your ride needs an oil replacement:
Lagging Acceleration: The oil inside your vehicle supplies the engine with lubrication, thereby helping it perform smoothly without causing excess heat or friction. Plus, fresh oil eliminates the performance-inhibiting effects of dust, debris, and dirt that gradually builds up inside the engine. So, once you notice that your automobile isn't accelerating quite as quickly as usual, make sure to call your local service center to set up this routine maintenance.
Check Engine Light: As one of the most easily recognizable signs that it's time for an oil change near Cleveland, OH, an illuminated engine light should be addressed immediately. Although there are a few reasons as to why this alert engages, the best way to handle it is to pull over to a safe area, wait for the engine to cool, lift the hood, and check for any obvious issues. Regardless if you can identify the cause of the light, you'll want to call a trusted mechanic as soon as possible.
Dirty or Low Oil: To verify whether or not your vehicle needs an oil change, feel free to take a look under the hood. After you've identified the engine oil reservoir, use the dipstick to check the oil consistency and level. If the oil levels fall below the lowest indicator on the dipstick, schedule your service appointment right away. In addition, keep an eye out for any murky or dark oil on the dipstick. That's also a sign that an oil replacement is necessary.
Schedule Your Oil Change near Me Cleveland OH!
At Land Rover Westside, we're committed to providing all drivers near Cleveland, OH, and beyond with quality service that'll keep your car in good shape for years to come.
So, if you think your automobile is ready for an oil change near me, all you have to do is reach out to one of our knowledgeable service professionals.
Ready to get started? Simply give us a call or schedule your service appointment online today! From there, our team will help you get the right services that'll have your vehicle performing like a champion.