There Is No Vehicle Quite Like the Jaguar XF

Few vehicles have the reputation, the power, and the sleek elegance that Jaguar vehicles have. In every way, Jaguar vehicles provide you with a unique, and regal, experience on the road.
The Jaguar XF is the epitome of this level of luxury. Not only does it provide you with the performance capabilities you need on the road, but it also has a luxurious interior design and a variety of features that will change the way you view the open road.
In other words, once you get behind the wheel of the Jaguar XF you will never view your driving experience the same way.
Learn more about the all-new 2018 Jaguar XF and find the latest luxury models available at our dealership.
Regal Exterior Design; Luxurious Interior Layout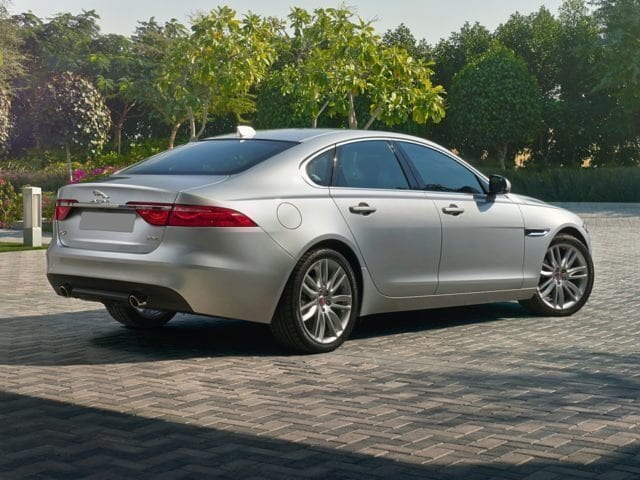 The moment you see the Jaguar XF, you will fall in love with it. This vehicle combines an aerodynamic body style with a confident fascia and sharp accents carved throughout its body. These aspects of the Jaguar XF's exterior design helps enhance your efficiency on the road while simultaneously exuding the charm and power you would expect from a vehicle of this caliber.
The interior layout is just as impressive. With refined seating design and a variety of easily accessible features, you will be both comfortable and in control when you are driving this vehicle. Furthermore, you will have plenty of interior space for additional passengers and cargo.
This also does not take into account the cutting-edge features that help enhance your awareness of the road and your comfort behind the wheel. Whether it's the available emergency braking system, the advanced parking aids, or even the traffic sign recognition software the Jaguar XF provides you with the tools you need for success.
A Variety Of Trim Levels To Choose From
You deserve to have the freedom to choose a trim level that is specifically complementary to your driving needs. That is why the Jaguar XF comes in two different body styles and a wide array of trim levels. All of the trim levels available provide you with certain features, exterior aesthetics, and benefits.
Jaguar XF Sedan

XF
XF Premium
XF Prestige
XF R-Sport
XF-S
XF Portfolio

Jaguar XF Sportbrake

XF Sportbrake S
XF Sportbrake First Edition
If you have any questions about these trim levels, or about which one would be best for you, our team can assist you!
Performance Capabilities You Will Fall In Love With
As you can see, there are already a ton of things to love about the Jaguar XF. This is further enhanced by this vehicle's performance capabilities. That includes the F-TYPE inspired supercharged V6 engine, which is capable of delivering 380 horsepower and going from 0 to 60 in 5.1 seconds.
Furthermore, with its intelligent all-wheel drive, standard all surface progress control, adaptive dynamics, and electric power-assisted steering this vehicle is fun to drive in every respect.
Learn More About Our Selection of Luxury Vehicles in Cleveland
We know how important finding the right vehicle is. Your driving experience, after all, is about more than just getting from A to B. That is why our team is here to assist you with all of your automotive needs, including helping you find the best option for your needs.
If you would like to learn more about our selection of vehicles, including the Jaguar XF Sedan and Jaguar XF Sportbrake, visit us today at Jaguar Westside, located in Cleveland, OH. Our team would be more than happy to assist you with all of your automotive needs!
We proudly serve all drivers throughout Cleveland, Parma, OH; Garfield Heights, Westlake, OH; and Solon, OH.