2018 Range Rover vs Land Cruiser
When traveling around Cleveland, Parma, or Garfield Heights, you deserve to do so in style. And if the vehicle performs well both on- and off-road, it'll make your travels all the more enjoyable.
Two viable options are the Range Rover and the Toyota Land Cruiser. But, only one is best for your needs and lifestyle. We'll help you decide which one that is in our 2018 Range Rover vs. Land Cruiser comparison. Learn all about each SUV below and contact us at Land Rover Westside if you have any questions.
Off-Roading Capability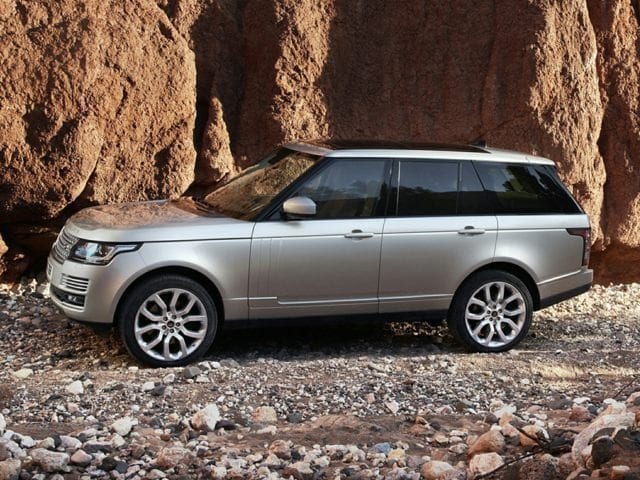 The 2018 Range Rover and 2018 Land Cruiser offer great performances, especially off-road. For example, they both have different driving modes to conquer even the toughest terrain: Terrain Response® in the Range Rover and Multi-terrain Select in the Land Cruiser.
With Terrain Response®, you can manually select from seven different settings, based on the land that you're driving on. They include:
Grass/Gravel/Snow
Mud and Ruts
Sand
Rock Crawl
Multi-terrain Select, meanwhile, has just five settings. As a result, you may be able to tailor your driving experience a bit better in the Range Rover.
Range Rover vs Land Cruiser: Performance Specs
Each vehicle also performs well on the smooth, city streets, as they both ride comfortably and have composed handling.
The Range Rover is quite powerful, too. It comes standard with a 3.0L V6 engine that delivers 340 horsepower and 332 lb-ft of torque. If you're craving even more power, there's the optional 5.0L V8 that churns out 557 horsepower and 516 lb-ft of torque.
Unfortunately, the Land Cruiser doesn't supply as much power. In fact, it only has one engine option: a 5.7L V8. And, that engine produces just 381 horsepower and 401 lb-ft of torque.
The Toyota model doesn't fare too well in the fuel economy department, either. It achieves an EPA-estimated 13 city/18 highway MPG. The Range Rover model, on the other hand, achieves an EPA-estimated 17 city/23 highway MPG, letting you drive farther for longer.
Interior Space & Amenities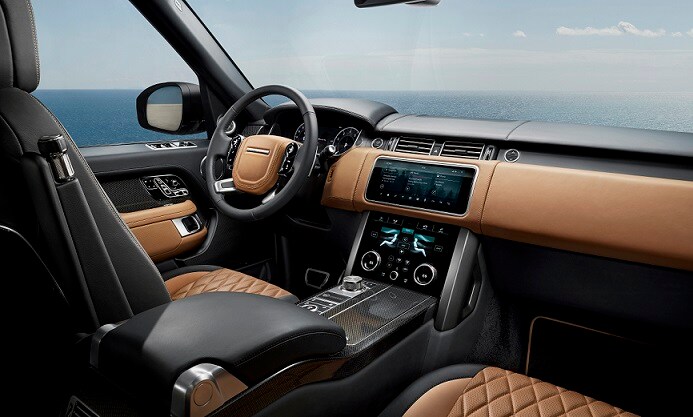 If you're looking for a spacious SUV with lots of features, we'll tell you how the Range Rover vs. Land Cruiser differ.
Although the 2018 Land Cruiser seats eight, and the 2018 Range Rover seats five, you'll actually find more passenger space in the Range Rover model.
For example, the Range Rover has a very roomy second row, with 39.4 inches of headroom and 40.1 inches of legroom. The Land Cruiser, on the other hand, has just 38.9 inches of headroom and 34.4 inches of legroom in its second row.
However, both vehicles offer lots of amenities to help keep everyone comfortable. These include:
Heated/ventilated front seats
Heated rear seats
Heated steering wheel
However, the 2018 Range Rover goes a step further by also offering ventilated rear seats, so those passengers can also keep cool. In addition, the available Executive Class Comfort-Plus offers a first-class environment for the backseat riders. Not only can they indulge in a 'Hot-Stone' massage, but they can also enjoy heated armrests, calf rest, and foot rest.
Unfortunately, you won't find any of these deluxe features in the Toyota Land Cruiser.
2018 Range Rover vs 2018 Land Cruiser: Verdict
The 2018 Toyota Land Cruiser is a great option for drivers throughout Cleveland, Parma, and Garfield Heights. However, the 2018 Range Rover offers more in its performance and features.  We hope you now have a better understanding of the Range Rover vs. Land Cruiser.
If you want to experience this luxury SUV in person, don't wait. Schedule a test drive at Land Rover Westside today!