Range Rover Evoque Lease

When you're attempting to pick your next model for travels around Cleveland, Parma, and Garfield Heights, leasing is always a good decision that presents you with unique versatility. And, the various Range Rover Evoque lease deals at Land Rover Westside will help you receive a great value for this highly acclaimed model.
In an effort to help you understand the leasing process and the various lease opportunities we have available, our staff has created this insightful copy. The coming sections will discuss both the Range Rover Evoque and leasing in more detail. Apply for a lease today to get started!
Understanding Leasing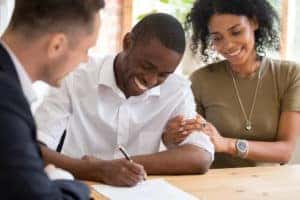 The design of the leasing process is for the advantage of the driver in both the short-term and the long-term.
When you lease a vehicle such as the Range Rover Evoque, you'll essentially be renting that model for a predetermined amount of time, typically around two or three years. Once this period is up, the lease ends, and you return the vehicle to the dealership. Then, you can select either the latest model year of the same vehicle to lease or another model entirely.
What makes this option beneficial for drivers is that it presents you with the chance to drive a fresh, modern vehicle all the time. When the lease ends, you'll quickly be able to re-up with the latest version, exposing you to performance boosts, style redesigns, driver-assistance technology, and much more.
Range Rover Evoque Rundown
The Range Rover Evoque is outfitted with a lengthy list of classic Land Rover traits such as performance, reliability, and sophistication while also flaunting an entirely unique style.
The performance does well on paved surfaces, providing you with always-eager power and deft handling. If you decide to head off-road, you'll find this SUV is equally superb. Rugged trails will be tackled with ease and steep inclines or declines are managed comfortably by the various off-road features implemented into the model.
As for the style, the playful lines and joyous shape of the Evoque will draw instant attention from other drivers and pedestrians. The exterior ambiance is matched by an elegant interior that swaddles passengers in both the front and second rows.
Our Lease Deals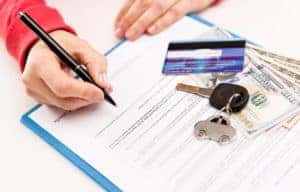 A wide assortment of Range Rover Evoque lease deals are available at our dealership so you can align yourself with an appropriate payment structure.
You'll get a great value when visiting our on-site service facility as the vehicle will be covered under the dealership warranty.
If you have questions about leasing or your specific Range Rover Evoque lease deal, you can sit and speak with one of our financial consultants at a time that works best for you! Not sure if leasing is right for you? Find out the difference between buying vs. leasing.
Receive a Range Rover Evoque Lease Today!
You can quickly be cruising around Cleveland, Parma, or Garfield Heights by selecting from one of the many Range Rover Evoque lease deals we have in place. If you have any questions or would like to schedule a test drive, get in touch with Land Rover Westside!