---
Ultimate Convenience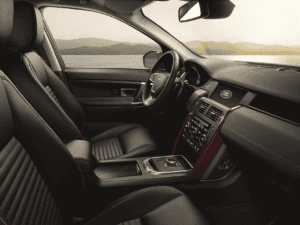 The interior Land Rover Discovery Sport is extremely adaptable. With multiple seating options, including 5 + 2 seating, this compact SUV can fit up to seven passengers with ease. Plus, the Ebony-grained leather seats will optimize comfort for everyone.
Intelligent Rearview
Once you load up the cargo area with luggage, sports equipment, and creature comforts, how will you be able to see out the back?
Enter the ClearSight interior rearview mirror in the Land Rover Discover Sport. This feature provides an unobstructed view of what's behind you, so you can pack what you need without a second thought.
Leave the Keys
True freedom to explore means leaving non-essentials behind. The available Activity Key wristband is completely waterproof, as well as wearable.
When you embark, leave your keys safely stored in your 2021 Land Rover Discovery Sport. Then, after your rafting trip, multi-terrain hike, or triathlon is over, simply use the Activity Key wristband to get back in.
Related Post: Land Rover Discovery Sport Interior